Are you looking to get a quote for a group?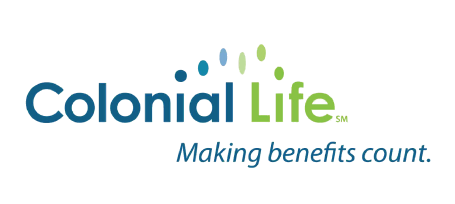 Colonial Life & Accident Insurance Company is an American insurance company based in Columbia, South Carolina. Colonial Life offers disability, accident, life, cancer, critical illness and hospital confinement insurance plans in 49 states.
Jason Powers:
It is time for another carrier product update. Tune in as we talk directly to the carriers about their new plans, any new network options they have, or which plan designs offer the most savings and learn about the tools and resources they offer to help you generate more business. Visit our website to learn about all of the carriers we quote in our carrier product update series.
Hello and welcome back to our carrier product update series. This is our Q four kickoff summit [00:00:30] edition. My name is Jason Powers and joining me in the studio is Don Opa with Colonial Life. Welcome Don. Thank you. Welcome to the Legacy Studio.
Dawn Upah:
I'm so excited. Yes. Never done anything like this.
Jason Powers:
Well, it's great to have you here. Colonial Life is a part of our marketing efforts, a part of our product offerings. We were a preferred broker partner of Colonial Life. We're super excited about that. We've had some brokers out in the market that [00:01:00] have had success with Colonial, so we know about Colonial, but there are agents watching this video that may not have had any experience with Colonial life. So how would you sum up Colonial life and its position in the market in group health group insurance?
Dawn Upah:
I'm going to go with, it's the best ancillary carrier out there, so you should just use us. Is that it? Is that
Jason Powers:
All you need? Right.
Dawn Upah:
We've been in the ancillary market since early 1950s. First payroll deduction company on the ancillary [00:01:30] side. So we've been doing the payroll deduction side for a really long time. The product portfolio is amazing. We do different lines of coverage, there's different levels. There's anything that would fit with the health insurance that you're currently providing to make the best benefits package for a group. And that's really the key is how to tie all that together so that the employees have money in their pocket to pay their max out of pockets and things like that. So that's what we do.
Jason Powers:
Yeah, [00:02:00] it's a lot of income protection, I think built into the Colonial life portfolio.
Dawn Upah:
Yes, that's exactly what it's about.
Jason Powers:
That's great. And I know you've got a presentation, so I'll let you jump right into it.
Dawn Upah:
Okay. Well, like the slide says, we've been protecting families and futures for over 80 years, so I kind of touched on that a little bit. We are the number two ancillary carrier out there in the small market and about the fifth in large market. So we do both. We have [00:02:30] products that are payroll deduction, but the certificate is individually owned. Never kitchen table sales. It's always sold in a group, typically with health insurance, but sometimes without. And then we have the large group side where we have true group products where the certificate is owned by the employer and we can go to underwriting and really make our prices competitive with any carrier that's out there. Those products require 10 [00:03:00] enrolled in each line where the individual but payroll deducted side has a minimum of one person enrolled in each line. So it makes it something you can really, really use in any size group.
Jason Powers:
That's great. That's great. Pretty simple approach.
Dawn Upah:
So we do the voluntary benefits, so obviously product side and then our enrollment options are really anything you need. So we have an employee navigator [00:03:30] license and we can put everything that you're doing on that platform like we do for quite a few of your groups or we can use it just for, well, any way you want to use it. And it's a full H R I S system allows for anything from just tracking everyday employees and the products that they have to a compliance or P T O time does all the different things. And then when it comes [00:04:00] to actually enrolling the employees, of course we can do that in person, we can do it on the phone, they can self enroll through employee navigators. So the options are pretty, anything that's out there goes from an enrollment perspective.
Jason Powers:
And I think it's important for agents to know that may not already have access to a benefit admin system like employee navigator. As long as we install a colonial product, they can access your employee navigator [00:04:30] license, we can get them the group set up and offered through there. Your team does the build out. So we just deliver the benefit information based on what was sold on the core products or the core medical products. And then you build out your team, builds out the employee navigator profile and then you end go in and help do the actual enrollment. And then on the backside of things, when there are colonial products in there, I know something that's really important, at least very important to our [00:05:00] team, important to the brokers that we work with. Your team also helps on the claims support side?
Dawn Upah:
It does. It does. I mean we're there to support anything you do Colonial. And then just to kind of reiterate with the employee navigator, we build the health dental vision. If you put in a different disability product, we build all of that onto the system, the platform for you. So basically we need [00:05:30] the product, the rates and the contribution from the employer and then it's all in the system and ready to go for your employers. But not only that, we have a support person for your employers to help learn how to use employee navigator, which is huge. So it person is going to set up an appointment and just teach 'em how to add an employee, how to remove an employee and how to pull a report every month so that they know that their deductions right for all the products and [00:06:00] a lot of the carriers integrate now. And so that data's going straight to those carriers from that perspective. And we do that for any size group.
Jason Powers:
And we've seen the E D I integration with between Employee navigator and a lot of carrier systems improve not just with Navigator, but overall in the industry. We've seen that the process improve and we've heard from quite a few carriers here recently where they're starting [00:06:30] to even accept that integration for smaller size groups, which is important. We knew navigator wasn't necessarily the holdup, it was the carriers and whether or not they would allow those things. So I think as we enter 20, 24 and beyond, more and more brokers are, they're going to need that kind of solution for their small group
Dawn Upah:
Clients. Absolutely. And it's such a time saver. I mean if you don't have to interact with the carrier every time you have a new hire at a group, if that's just done magic [00:07:00] on the backend, then it just saves the broker time and effort in keeping everything smooth and done and moving on and open to groups. Yeah,
Jason Powers:
Okay. But employee, you're not here to sell employee navigator. We're talking about Colonial. I know it kind of got stuck there. Let's talk about the product, right? Let's talk about what are employer voluntary benefits. We talk about those a lot, but it it's more than just voluntary [00:07:30] dental, vision, voluntary life. This is a lot more than that.
Dawn Upah:
It is. So the product portfolio is basically accident coverage, critical illness. There is a cancer product or critical illness can include cancer. There's two options on the cancer side of course disability. There's a gap plan. We do term and whole life. I think that's about the gamut. That's a lot of 'em. Yeah. Well, there you go. [00:08:00] Oh yeah. And dental. So dental is newer for us and it's a true P P O Dental has really great network in the Kansas, Missouri area. And one of the super cool things about our dental is that it is individually owned, even though it's payroll deducted, which means it's rate stable. So we're unable to increase those rates year over year. So you can tell your client that the medical may go up, but your dental's locked in and we're not going [00:08:30] to have to come back to you with an increase on the dental.
That one's really cool. But the previous slide said why voluntary, right? With a lot or what our voluntary benefits with a lot of brokers, the medical insurance is always the most important, which of course is the case. But in today's world, we have such huge deductibles and especially max out-of-pockets that a lot of times people just don't know how much they really [00:09:00] need voluntary benefits. And so they're there to help the employees pay those deductibles, pay those max out-of-pockets, and then in the case of critical illnesses, they're able to help with travel and other things. It's been my experience unfortunately personally and with my clients that I know several teenagers right now who are going through cancer treatment and when that happens, a friend of ours had a situation where they wanted [00:09:30] to be treated in Indiana while, well, who's going to pay for that and who's going to pay for those hotels?
And those travel and those benefits all include a benefit to help families take care of themselves when they're going through major problems. And it's invaluable to them at that particular time. Of course, the medical insurance is always the most important. They got to get their care, but then if they're able to afford to go have their care their way kind of the way I say it, [00:10:00] then they're really happy about that. And I don't think voluntary benefits are so expensive. I mean, when it comes right down to it, you can do a lot of different things with what we call, well we say one hour, a pay a week should cover the voluntary benefits that you need. So if you're a $20 an hour person, never more than $80 a month in voluntary benefits. So that's kind of how we look at or gauge what's appropriate for an employee to [00:10:30] have.
Jason Powers:
Yeah, and we talked pre-show a little bit about the gateway, voluntary benefit being an accident. It's certainly at a lower price point. It's attainable. I think it's something that you can certainly, as an advisor, you can certainly paint a picture of the need for that kind of benefit at the price point that you have, but that leads into some of those other conversations about critical illness [00:11:00] rounding out with voluntary life and some of those other products.
Dawn Upah:
And the other thing that I think that a lot of times is overlooked is it doesn't hurt in today's world to ask the employer to cover some of those benefits. If they're concerned about their employees and their deductibles and their max out of pockets pay for an accident policy because a lot of those instances when the employees are going to be using it, is going to be an accident and therefore the employee has money coming in to help [00:11:30] cover some of those deductibles and max out of pocket. So we can do a group accident policy for about 10 bucks a month. And so that's very affordable and typically affordable even for the employer.
Jason Powers:
Yeah, I can think of a case here earlier this summer where the group was concerned, they had a lot of employees that tend to have accidents outside the workplace. And so [00:12:00] it was a situation where the broker came to us and had an idea. It really fit the need in that situation and gives us a platform to talk about some of the other products that Colonial offers. We talked a little bit about employee navigator, and you kind of touched on enrollment, but really if we can kind of expand on what your team can do to help brokers that are entering into the busy season, [00:12:30] they can't be everywhere all at once. So your team, when we're offering a colonial product, your team can really help build on that brokers team, be part of that broker's team out in the market.
Dawn Upah:
Absolutely. So our enrollment team, like we talked about, can do sit down one-on-one with employees or we can do phone enrollment. But one of the nice things is we are very well versed in health insurance and a lot of people don't understand their health insurance. And as brokers, you might not be [00:13:00] interacting with the employees that HR person may be doing that, and then the employees just don't have a good idea. So when we sit down with the employees, we're talking about what is a deductible and how is that different than your max out-of-pocket and answering questions for each employee individually, privately. I was in a situation yesterday where the broker did a group meeting and she went over everything. It was all up on a nice board and then I stood up and [00:13:30] said, okay, we're going to meet with you. So if any of you have private questions and the whole crowd's going on, yeah, because what she said made sense, but they don't know how to apply it.
Jason Powers:
So their personal situation.
Dawn Upah:
So we're able to help better use the products that you have put in place in the group that are so important to 'em in those one-on-one conversations.
Jason Powers:
And just to expand on that, I think that what we've seen when your team goes in and explain and sits down with those employees, they get more value [00:14:00] out of the plan that we've already put in. Now they're seeing where that plan is enough for their situation and where there's additional product that might supplement what's going on on the core product.
Dawn Upah:
And that's how we basically sell the voluntary as well. So critical illness, for instance, I'm going to say, okay, you've got a max out of pocket of $10,000 a year. Let's say something happens and there's a heart attack [00:14:30] or a stroke or a cancer diagnosis, maybe that goes into the second year. Now you've got a $20,000 exposure. Let's put in a $20,000 critical illness plan that's going to allow you to have that money in automatically. Pathology report comes back for cancer. We write you a check and you've got that money sitting there. So then you can go to the doctor and worry about yourself and not have to worry nearly as much about the money that is going to be required to take care of that. [00:15:00] So finding what fits for a family. Maybe you got a young kid who's riding a motorcycle, so the accident plan's the best fit for him. Maybe critical illness isn't a fit for him until he gets a little older. That's our one-on-one time with them to be able to figure that out.
Jason Powers:
Yeah, there it is. Benefit counselors, extension of your team. I jumped ahead.
Dawn Upah:
Oh my gosh. Look at you go
Jason Powers:
Right.
Dawn Upah:
[00:15:30] See that's you jumped ahead again. I did. Right.
Jason Powers:
Personalized support. They're all invested in you. Yeah.
Dawn Upah:
So let's talk a little bit more
Jason Powers:
About product. Yeah, product. So the portfolio itself, I think, well, it sits broad and we'll have links below this video for agents to see the whole portfolio if you'll, but yeah, let's talk a little bit more about the actual [00:16:00] product options.
Dawn Upah:
So the ones that you guys are probably most used to I would think would be the accident and the disability insurance. Those are pretty common across the board plans. Like I mentioned, the critical illness covers, the heart attacks, the strokes, the cancers, things like that. But the gap plan is really one that could integrate really well with the health insurance and is one that a lot of our brokers present in combination with the health insurance. So our gap plan has quite a few different [00:16:30] options, which is nice. And you can come to me and say, Hey, this is my health plan, what do you think fits? Which is great, but basically it covers hospital confinement, outpatient surgery and diagnostic testing. And then there are a lot of different levels within that that you can offer bigger outpatient surgery or bigger diagnostic testing. But with health insurance these days and those larger out-of-pocket amounts, gap plans [00:17:00] are becoming very, very commonplace.
We're seeing more and more, I think we've had a gap plan for, well I've been with Colonial 20 years. So we've had a gap plan probably for about 15, I think in the last five years is really where we've seen and even in the last year even more usage in that. So one very, very important because it covers hospital confinement for pregnancy. So if you've got people in their childbearing years, [00:17:30] even if it's a male employee, he can buy an employee's spouse coverage and then cover the hospital confinement for the family. And then it helps them when they've got a higher deductible plan or not offered a low deductible plan. So the gap plan fits in so many places and such a good pairing with the health insurance that it's a very flowing conversation when you sit down with your employer to say, okay, this is what your health plan covers [00:18:00] or doesn't cover and this is what your gap plan can bring to the table to kind of boost those benefits a little bit.
And then we sell a lot of life insurance and a lot of brokers offer life insurance in their groups, but when we're sitting down and talking to people about it, they really just don't realize how inexpensive it can be. So we can put in a term life or even a whole life, we don't do that. It's an investment product [00:18:30] on the whole we do 10 or $20,000 worth of coverage. There's always a guaranteed issue amount. So then they've got a product that goes all the way until they're a hundred and they're happy with the fact that they've covered that cost, that end of life cost. So we throw in those products just to help build that package out and say to the employees who typically buy their coverage at work, most people don't go outside of work to look for insurance. We've got some [00:19:00] options for you from that perspective as well.
Jason Powers:
Yeah. And everything's payroll deducted.
Dawn Upah:
Everything's payroll deducted,
Jason Powers:
Like you said, no kitchen table sales. These are all going through the employer set up in an employee benefit setting. Yes.
Dawn Upah:
And all portable. So meaning the employee can keep them after they leave that employer at the same price, which is really nice. And even better, what it means for brokers in general is those commissions continue [00:19:30] on so you're not losing a product when they leave and go to a different employer that you don't insure necessarily. If they choose to keep it, which our team reaches out and asks them to, and then Colonial sends a letter on the backend as well, you are keeping a constant commission stream coming in where you might normally lose that.
Jason Powers:
And speaking of keeping the client and being consistently being attached to that policy, that applies throughout [00:20:00] whether that employee leaves or not, those policies that are issued, the agent stays attached to those policies for the life of those policies. That's correct. They're not transferable on an agent of record basis.
Dawn Upah:
That's
Jason Powers:
Correct. So important for consistency and stickiness with your clients and knowing that once you plug in the colonial product, as long as that product's paid for, you are attached to that policy,
Dawn Upah:
We always maintain the integrity of the initial policy and the initial reps that were involved with [00:20:30] that broker and rep. I've never sold health insurance. I've never really understood that. Just changing constantly. It's never been part of my world. So
Jason Powers:
It's part of mine. I
Dawn Upah:
Know, I know. But for us, you're always going to get paid on those policies. Now, if a group was bor or something happened, then the new broker coming in would get commissions on any new sales. But the old policies that are there still are paid to you on the commission
Jason Powers:
Side. I think that's [00:21:00] important also to know for brokers that are maybe looking to looking at a case where a prior agent had Colonial in there, but maybe they're not servicing it as well and they're coming in to take over, they can and then they can build on whatever was existing. They can't. But like you said, the integrity of the original sold policy stays intact. Right.
Dawn Upah:
And we can change up product mix. So if somebody went from one product to another, the new broker would get that commission. So [00:21:30] it just goes with the products that were in place previously.
Jason Powers:
And speaking of commissions, the commission schedules vary by product. So those are things that will have information on either posted below or things that we can talk about with brokers individually out in the market. We are not set up as a general agent with Colonial at this time. We are a preferred broker partner, which does give us some preferred access on the underwriting side, but definitely a [00:22:00] big piece of what we're doing out in the market with our agents. Want to make sure that you know that it's available to you going into this busy season knowing that you've got access to an enrollment team to help you plug in those extra products and take care of some of the core enrollments. And then using that employee navigator system would be tremendous.
Dawn Upah:
Yes, that's awesome. But I want to go back to one thing you said, which is the underwriting. So we can typically [00:22:30] have guaranteed issue on most products including disability even on small group. So there's a lot of different ways. We have specials, if you will, where we can waive any sort of underwriting disability. We can get guaranteed issue down to three lives. So especially in today's world where a lot of people have whose health are on medicines and things like that may preclude them and the group's not large enough to [00:23:00] have a group policy in place, we have means to be able to help them get coverage. And so that's been great over the years to be able to help people from that perspective as well.
Jason Powers:
Yeah. And you mentioned pre-show the disability product doesn't have any offsets or really you get what you purchased. That's
Dawn Upah:
Correct. That's correct. So yes, it doesn't coordinate with any benefits at all. [00:23:30] So on a voluntary basis, if somebody chose a thousand dollars benefit with a seven seven elimination period and they had a month's worth of time built up at work, doesn't matter for us, they're going to start getting payment immediately after that first week if their claim sent in properly and all together. Otherwise, they'll get that check later, but they get all of that exactly what they bought with no, look at whatever else is going on in their lives.
Jason Powers:
That's good. [00:24:00] Yeah,
Dawn Upah:
Love it. And the disability has the pregnancy leave too. You got six weeks for vaginal birth and eight weeks for C-section. So there's all those different little nuances and things about it.
Jason Powers:
Good stuff. Anything else that the brokers need to know about before they head out into the crazy season?
Dawn Upah:
Just most importantly, don't ever hesitate to reach out. If you have questions, you don't necessarily understand voluntary or maybe you want to know a little bit more about any particular product [00:24:30] or you have a group and you want me to look at the medical insurance and make a recommendation of what you should offer, please, please just reach out and ask me those questions and I'd be glad to help.
Jason Powers:
Great. And if we can help you with your Colonial Life quotes, be sure to reach out to our quoting team. They're standing by ready to help you at a moment's notice. Dawn, thank you so much for coming into the studio. I'm looking forward to next year building upon this presentation so that we can [00:25:00] maybe take a deeper dive into some of the products and the strategies that you and I have talked about on some specific cases. In the meantime, look for this video online, on our website down below. We'll have links to all the marketing materials that you can use in your presentation when you're talking about Colonial with your prospects and clients. Happy selling in Q four and we'll see you next time.
Thank you for watching this edition of our carrier product update series. Visit our website to watch other episodes.
Frequently Asked Questions
Get your marketing materials for Colonial Life right here.
Send us your Colonial Life quote request now!
Are you looking to get a quote for a group?
Carrier you may also like